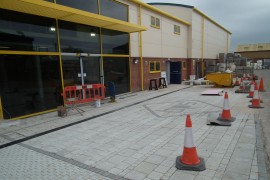 From new build to conversion, refurbishment and reimagining of spaces, Arden Construction is the commercial building contractor of choice in the Midlands. We have experience of all types of buildings in all commercial sectors.
Deciding to build from scratch is a big decision for any business and you need to know your contractor can deliver their promises, and manage their subcontractors to achieve your deadlines.
At Arden  we have a proven track record of new build, refurbishment and conversion with many examples and testimonials available for you to inspect and satisfied clients to talk to.
We are particularly proud of our track record of converting, extending and refurbishing redu
ndant buildings, giving a new lease of life to our rural landscape and providing the modern, efficient premises our local businesses need to keep jobs in this area.
We are acknowledged experts in building re-use. If your office or commercial premises feel dated or are in an historic building, Arden Construction knows how to reimagine what you have to create a modern, effective workspace, utilizing all the most efficient building materials and techniques to create a high performance building that meets your needs now and into the future.  For example this recent new build, the exterior above and the interior.
If you have an idea for a building for your business, give Arden Construction a call.   Our friendly, professional team is here to help and advise you to get the best building for your budget, delivered to the highest quality and on time.
Arden; Constructing the Midlands for the last 23 years!