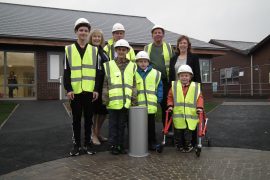 Arden Construction were pleased to be involved with Chadsgrove School for the time capsule burial and construction of the two classroom extension.
PUPILS at Chadsgrove School in Catshill have buried a time capsule in the school's grounds to mark the opening of a new facility for young people with disabilities.
The 19 to 25 Education Learning Centre is the first of its kind in Worcestershire to provide education and care for students with physical disabilities and complex medical needs.
Catherine Driscoll, director of children, families and community at Worcestershire County Council, opened the new facility earlier this month, joined by families, council staff, teachers and governors.
A time capsule, filled with a precious object from each Chadsgrove class, was buried on the site of the new build, under a sundial.
Chadsgrove pupil Callum Divit said: "I think it would be really interesting to dig up a time capsule from the past – I'd really like to know what the children back then played with and wrote about. I thought putting something in a time capsule for us to bury will be really interesting for children of the future."
Headteacher Deb Rattley also packed photographs of the last three Chadsgrove headteachers in the capsule – one of David Nicholas, who led the school between 1976 and 1990, another of Richard Aust, headteacher from 1990 to 2009, and a picture of herself.
The event celebrated the school's 40th birthday, as well as the construction of two additional classrooms, which will be open to students this week.
A spokesman for Chadsgrove School said: "The school would like to thank all who have been involved in both the new 19 to 25 provision and the building of the two new classrooms – both buildings are a wonderful addition to the school and will enable us to continue to provide outstanding education and care to all our pupils and young people."
Arden Construction; building the Midlands.